"Punk. Quarterback Punk". "Surfing's the source man, change your life forever, I swear it". "Speak into the microphone squid brain!". Point Break is dumb but a very fun action movie. It features a laughably bad Keanu Reeves, a very funny Gary Busey, a gorgeous Lori Petty, surfing, skydiving, shoot outs, all it needs are spaceships to complete it. It also features bad one liners that I cannot resist running through my head as I have fun capturing surfers in the sun at Cable Beach in Broome, Western Australia. Out of the 100 or so useless frames I manage to get a few images just right, this possibly being my favourite: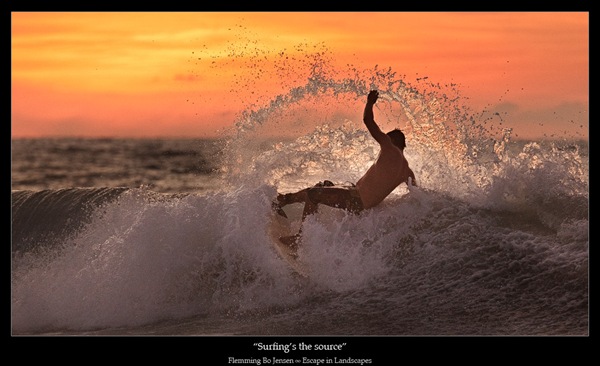 "You're telling me the FBI is gonna pay me to surf". "It's all about balance right? How hard can it be!". I have yet to venture out on a surf board but I gather it is quite the challenge! Capturing the surfers is not exactly easy either but great fun. Using my 100-400mm L lens at 400mm I try and predict the action and pan along with the surfers. I shoot single shots rapidly with a happy trigger finger to nail focus and timing as neither the Canon 5d Mk II servo drive and continuous shooting nor the autofocus on the 100-400mm are really built for sport shooting. That does not matter, in pursuing new photographic paths from my landscapes the important thing is to get out there and experiment and have fun. I am quite pleased with this image, I only wish I he was facing the camera. The background looks like some cheesy air brush painting but seriously that is how the sunsets look up here at the moment. Surfer dudes, "are you receiving my signal", what is your opinion on this image?
PS. To see truly courageous surf photography, watch Dark Side of the Lens!